FOR RENT
3 Bedroom Home
2 Acres Wooded Lot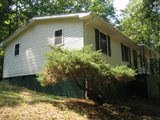 5987 Irish Rd, Schuyler, VA (Albemarle County)
$895/month
3 Bedroom, 1 Bath on Private 2 Acres Wooded Lot in Southern Albemarle. All on 1 level – no stairs! Large Carport, Eat-in Kitchen, Pantry, Living Room with Wood Burning Fireplace, All Electric, Utility closet with Washer & Dryer Hookup, Attached Laundry Storage Area, Ample Storage in Crawlspace, Attic, and Outbuilding. Large Backyard in Southern Albemarle County.

Application and Credit Report Required.

Schools: Yancey Elementary, Walton Middle, Monticello High
Great Location: Off Route 6 along Albemarle/Nelson County Lines, 22 mi to Charlottesville

Call for info and tour: 434-260-1040.
See Pictures... See Details... View Map

Rent to Own & Owner Financing
Opportunities
We often consider rent to own and owner financing options on other properties. Please call for more information.